A safari in Kenya should definitely on everyone's bucket list. The world-class experiences coupled with luxury and stunning views are certainly an adventure for a lifetime. Some of my top picks for exhilarating safari experiences include;
1. GAME DRIVE TO ENJOY THE STUNNING WILDEBEEST MIGRATION IN THE MARA.
July is quite a busy season in the Mara among locals and tourists alike for its annual wildebeest migration. The Mara is breathtaking and is a scene out of National Geographic. Maasai Mara is a five-hour drive from Nairobi CBD and various travel companies offer travel packages throughout the year. The reserve is also open to self-drive. During the game drive, you will see cheetahs, leopards, zebras, hyenas, giraffes, monkeys, elephants, rhinos to name only a few as close as five-feet away!
With a two-night, three-day stay at the luxury tents at the several camps on the reserve, you will enjoy a game drive every morning and enjoy being awed by nature. The wildebeest migration is a wonder to behold as they cross the crocodile-infested Mara River to the other section of the reserve for the second half of the year. The fees are subject to whether one is staying in a lodge/camp within the reserve with residents paying USD70 and non-residents paying USD80 (adults) and USD 45 (children). These rates apply to non-East-African citizens only.
2. FLY-IN SAFARI TO MASAI MARA WITH LUXURY STAYS AT THE RESERVE.
Nothing says romance more than flying into the wild in Narok County, Rift Valley Kenya and observing the vast grassland from thousands of feet in the sky, then proceeding to land right in the middle of the Mara reserve and enjoying a luxury stay at one of the lodges on-site. The views are akin to a scene straight out of Taylor Swift's 'Wildest Dreams' music video.
There are flight companies available at your disposal to travel from Nairobi to Masaai Mara with them having stops in the Mara to drop you off at your specific camp. This is perfect for anyone who would prefer to avoid the five-hour drive from Nairobi. If you drove to the Mara and would still like an aerial view of the reserve, there are hot-air balloons available for hire to take you on sunset rides. The park fees for fly-in safaris are dependent on the number of people on the flight.
Located at the foot of Mt. Kenya, this luxury retreat is perfect if you enjoy privacy and breathtaking views of the savanna grassland and Mt. Kenya. Segera has a maximum capacity of 30 clients. Segera has 50,000 acres of grassland that is a habitat for a lot of wildlife. Enjoy a view of Mt. Kenya, serenity, fresh air, and amazing hospitality. The retreat has 6 garden villas and 3 homes available for accommodation and tour guides available to take you on safari.
4. FAMILY SAFARI TO GIRAFFE MANOR.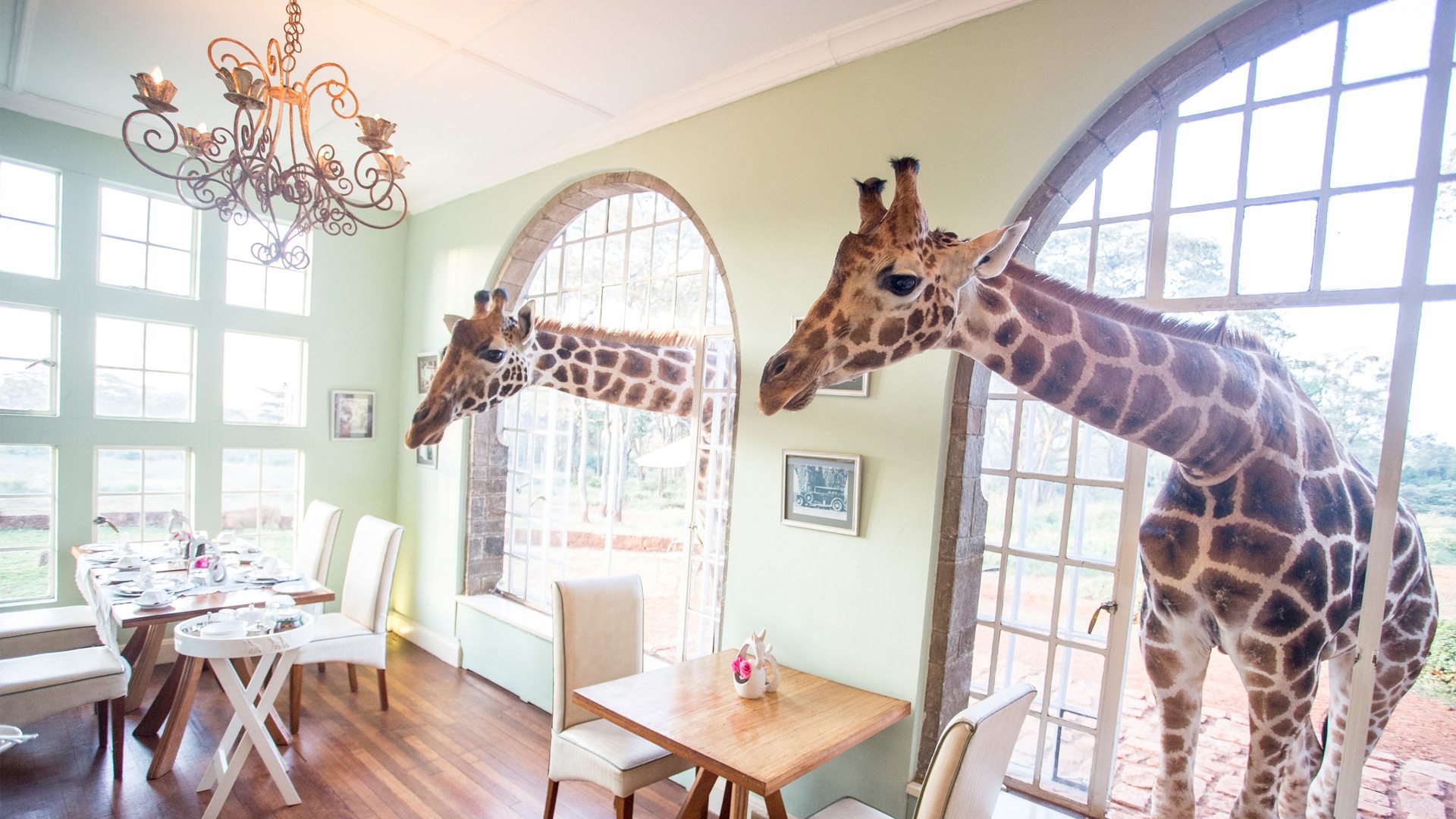 Imagine having your waffles and pancakes for breakfast on safari and a giraffe peeks at you from the window and wants to have a bite! Such is the life at the enchanting giraffe manor. The manor is a giraffe conservation center where the friendly animals roam freely among the guests in the garden and occasionally peek through the numerous floor-to-ceiling windows or stand near balconies looking to have a taste of whatever you may be eating. The manor is located in Karen, Nairobi and a stay here is one of the items that you should tick off your bucket list! You will also enjoy scenic trails in the forest, which is perfect for bird-watching. The manor is also close to Giraffe Centre and Karen Blixen Museum.
5. FAMILY ADVENTURE AT AMBOSELI NATIONAL PARK.
The majestic elephants will draw you to Amboseli but you will stay for everything else! Amboseli has thousands of hectares dedicated to wildlife protection and conservation. A game drive with your family at this National Park will certainly be one to remember. You will have the pleasure of touring the wild with a view of Mt Kilimanjaro's peak on the horizon. Hunting flamingoes at the lake are a sight for sore eyes with zebras and wildebeests nearby looking to quench their thirst. Enjoy a weekend here seeing the magnificent animals while immersing yourself in the rich Maasai culture.
6. SEARCHING FOR MAN-EATERS AT TSAVO!
Tsavo West National Park is the land of lava, springs, and home to man-eaters. The park is a 2-hr drive from Nairobi although it can be accessed by air through either of the three airstrips located at the park. It is a thrilling experience having a game drive at Tsavo in the midst of all these creatures and having a view of the herds at the designated Poacher's Lookout.
Other activities at the park include camping, cave exploration, and underwater hippo and fish watching if you like to chase adrenaline. There are a few designated campsites and lodges at the park for accommodation. The park entry fees are USD 5 (adults) and USD 2 (children).
7. FAMILY RETREAT TO ABERDARE NATIONAL PARK.
Experience nature and all its elements at Aberdare, located in Central Kenya. The park is a serene hub of nature for bird-watchers, picnics, and game drives and has stunning a waterfall gushing from a high cliff and joining the river below that runs through the forest. The forest in the park is a habitat for many wild species and birds.
Mt. Kenya in all her glory is clearly visible from the park. The park is about an hour's drive from Nyeri town and is open to travelers on self-drive (with a guide). The lodge at the Aberdare is famously where Queen Elizabeth received news of her crowning while there on safari. Aberdare gets quite cold so be sure to pack some warm layers for your safari!
Currently, they have an offer running on game park rate at KSH 300 on self drive for the month of February, 2022. I would highly recommend that you take advantage of this offer and take the scenic root in the heart of Central Kenya.
8. NAIROBI SAFARI WALK
An excursion at Nairobi Safari Walk is perfect for lone travelers or a group of friends within Nairobi. The safari walk entails a walk through the enclosed arenas and views of the stunning Langata landscape. The park fees are USD 3 for East-African residents and USD 10 for foreigners.
The animals are in enclosed spaces, sort of like a zoo and there is a designated walk path for tourists. You might spot a bushbuck, hare, or monkey roaming freely through the park though! However, you should definitely carry a hat and some water and you are in for a day filled with nature.
9. SUNRISE HOT-AIR BALLOON SAFARI AT MASAI MARA.
If you have never had the privilege of being on a hot air balloon, then your first time has to be in the Mara with a breathtaking view of the amber sunrise and herds of various animal species over the Mara. The experience is life-changing. The ride is suitable for families and couples. If you are looking to have the experience of a lifetime, book a hot-air balloon ride and you will meet the experienced pilots who will take you on the ultimate adventure. The pilots have a pick-up schedule across all lodges in the Mara and they are also your guide, pointing out the various species of wildlife below. After the ride, you will enjoy a Kenyan breakfast on the savannah while perusing through all the photos taken by your pilot and then drive back to camp.
10. VIEW HUNDREDS OF FLAMINGOES AT LAKE NAKURU NATIONAL PARK.
About a 3-hour drive from Nairobi, this beautiful park with Lake Nakuru at its center is an ecological haven located on the floor of the Great Rift Valley. From either of the three viewpoints, you will have a view of the entire park and some herds in you are lucky. The park is famous for the white rhinos and the numerous flamingoes that flock to the lake throughout the day. The families of baboons at baboon's cliff are a sight to behold. The landscape is hilly as is expected in an escarpment and you will have a view of Enasoit, Honeymoon, and Lion Hill. There are quite a few designated campsites available in the park and two privately owned lodges available for accommodation.
Click the following links to get more insightful tips and tricks:
TOP 10 BEST PLACES TO EAT IN MOMBASA
TOP 10 HISTORICAL SITES AND MONUMENTS IN NAIROBI, KENYA.
TOP 10 NATIONAL PARKS WITHIN AND NEAR NAIROBI.
TOP 10 SAFARI LODGES IN KENYA.
TOP 10 THINGS KENYA IS FAMOUS FOR.
TOP TEN GLAMPING SITES IN KENYA.
I am a bubbly extroverted 25 year old currently living and studying in Nairobi. I enjoy travelling and trying out new places to eat. My favourite place to be is anywhere by the beach, with a beer. You will most likely find me with my nose in a book or dining alone, like most extroverts do, of course.
I am a bubbly extroverted 25 year old currently living and studying in Nairobi. I enjoy travelling and trying out new places to eat. My favourite place to be is anywhere by the beach, with a beer. You will most likely find me with my nose in a book or dining alone, like most extroverts do, of course.