A luxurious experience in a safari lodge in the middle of Kenya's game parks sounds like the perfect getaway, doesn't it? Kenya is famously known for its fascinating safari lodges and safari experiences. Staying at a safari lodge offers one both luxury and the convenience of proximity to National Parks that makes early game drives to the park and breakfast back at the lodge possible. In some of the safari lodges, one can even see animals from the comfort of their room! In this blog, I have highlighted some of the best safari lodges to stay at while seeking adventure in Kenya;
TOP 10 SAFARI LODGES IN KENYA
Salt Lick Safari Lodge has been one of Kenya's flagship lodges for decades, famed for being among the World's Most Photographed Lodges. A favorite amongst travelers in search of luxury accommodation, Salt Lick Safari Lodge is a luxurious safari escape set in the heart of the Taita Hills Wildlife Sanctuary overlooking a waterhole and the vast Tsavo plains. The lodges at Salt Lick hut-shaped and they stand erect on pillars from which you can see herds of elephants drinking from the waterhole near it and the savannah plains.
Salt Lick Safari Lodge has built a designated viewing spot for tourists, down a charming tunnel with lamps, from where you can see the elephants from as close as a few feet away! Salt Lick Safari Lodge's charm is evident from the outset. Here you will enjoy uncompromising high standards of service, efficiency, and personalized attention. Enjoy a wonderful breakfast from the restaurant with a window view of the Tsavo wildlife. The neighboring Taita Hills Safari Resort & Spa has a museum that displays some of the memorabilia from the First World War as part of the rich history of Taita Taveta County.
Riverside Camp is situated in Olare Orok Conservancy right on the banks of the Talek River and next to the Maasai Mara 'Talek Gate' and is ideally placed for self-drive or it can also be reached by bus, daily from Narok. At Riverside Mara camp, they pride themselves on blending simplicity, wild African culture, and welcome to ensure a great lifetime experience for their guests.
With the warmth of their hospitality, you will feel you have truly at home. This safari lodge has a restaurant, room service, bar, garden, outdoor pool, and barbecue with views of Talek River from your suite. Complimentary wifi is offered. A sun terrace can be found at Riverside Mara Camp and Lodge, along with a shared lounge for that sundowner after a whole day of safari. The nearest airport is Keekorok Airport, 21 km from Riverside Mara Camp and Lodge.
Retreat from the city's hustle and enjoy Ololo's serene atmosphere at the heart of Nairobi. The lodge is a mere 45-minute drive through the park from Nairobi and both main airports, yet the lodge's secluded location feels like a world away. Here at Ololo Safari Lodge, you will find the perfect combination of the atmosphere and style of safari life and the amenities of a city hotel.
Set on a productive 20 acre working farm Ololo Safari Lodge offers the joys of delicious fresh ingredients. Guest can also enjoy an educative tour of the gardens and greenhouse upon request. With their established and secluded gardens, guests can settle in and soak up a unique safari experience. Wildlife is right on their doorstep and all can enjoy breathtaking views over the national park, to the famed Ngong Hills in the west. Or you may prefer to wile the hours away at the lodge by the pool, adventure on a safari into the park, take a tour of the Ololo Farm, or perhaps an excursion with us into historic Karen. Ololo's rooms are unique and diverse, each tastefully appointed with attention to historical detail.
The accommodation at Ololo Safari Lodge ranges from the farm's old converted stables, tented cottages under makuti thatch, and to the original suites in the main house of the lodge. An all-inclusive stay here will include meals, drinks, and 2 game drives through Nairobi National Park.
Sagala Lodge is located in Sagala Game Sanctuary, a 5000-acre private sanctuary bordering Tsavo East National Park. Sagala Lodge is conveniently located along the Nairobi-Mombasa highway and is an ideal base for safaris to Tsavo East National Park as well as excursions to Sagala Hills. The area is also a hotspot for bird-watchers, with many bird species in the area.
Accommodation t the lodge is offered in rustic bush-style lodging, central to prime game viewing land. Sagala Lodge can assist in airport transfers from Mombasa Airport. The bungalows are scattered throughout the garden, giving each guest a private and tranquil retreat.
Amboseli Serena Safari Lodge is located in a grove of acacia trees and guests staying here will enjoy beautiful views of the National Park and the majestic Mt. Kilimanjaro. Each of the 96 guest rooms here at Amboseli Serena Safari Lodge is en suite and the balconies have views of the Amboseli plains. Each of the rooms is beautifully decorated with Maasai-themed decor. Amenities available include a bar, restaurant, spa, swimming pool, and babysitting facilities.
True to its name, Dove Nest Lodge is the perfect location for an ideal getaway. Located in Naivasha right within the Great Rift Valley, it is close to Hell's Gate National Park and Lake Naivasha. Dove Nest Lodge is perfect for families looking to enjoy peace and tranquility away from the city while enjoying the various wildlife habitats Naivasha has to offer.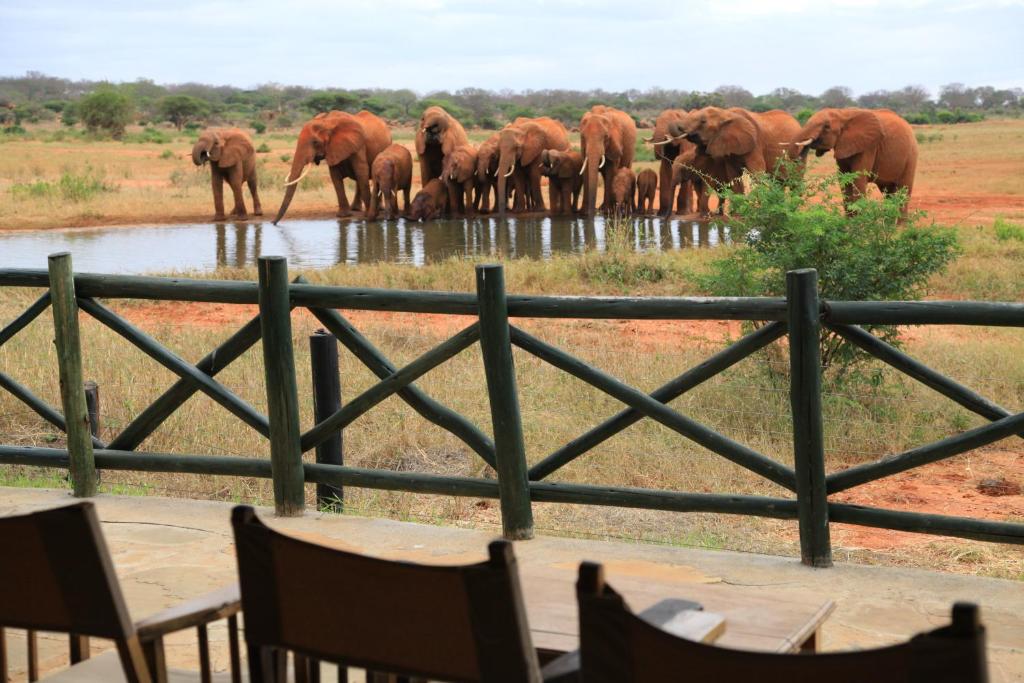 Voi Wildlife Lodge is located within Tsavo East National Park and features a spa, restaurant, wellness center, and conference facilities. The Tsavo airstrip is a 5-minute drive to the Voi Wildlife Lodge and a 4-hour drive to Nairobi if traveling by road. The rooms are en suite, spacious, and decorated with an African theme. Enjoy vegetarian and international cuisine at Tembo restaurant while enjoying the view of herds at a watering hole close to the lodge.

Tradewinds Lodge is located in Diani Beach with features such as direct beach access, swimming pool, en-suite rooms with terraces, swimming pool, and game drives. Tradewinds Lodge property is a 5-minute drive from Mombasa International Airport. Tradewinds Lodge is suitable for families and there are many amenities to ensure you have a stress-free stay if you have kids. If you would like to enjoy a lovely safari but also experience the Kenyan coast, this would be your best pick.
Naro Moru River Lodge is nestled along the slopes of Mt. Kenya just off the Nyeri-Nanyuki highway. This is a rustic lodge located along the banks of the Naro Moru River that flows from Mt. Kenya and ends up in the Ewaso Ngiro River. Awake to the sounds of birds chirping and black and white colobus monkeys on the property. Naro Moru lodge is popular with guests booking family stays and couples looking to have a getaway in the cold upcountry. With a choice between en-suite rooms, self-catering cottages, and country homes, Naro Moru River Lodge can cater to the needs of your stay.
Experience world-class service at this lodge located at the heart of the Masai Mara National Reserve. With babysitting, cleaning, and play areas available at your disposal, the lodge is perfect for families looking to have a peaceful holiday stay and safari. In addition to that, all children below four years stay free of charge! You can choose to fly into the airstrip or drive from Nairobi and into the property. Jambo Mara Safari lodge offers free cancellation up to 2 days before your trip. Enjoy mountain views, a Maasai market, adventure-filled safaris at Jambo Mara Safari Lodge.
Click the following links to get more insightful tips and tricks:
10 BEST SAFARI TOURS IN KENYA.
TOP 10 HISTORICAL SITES AND MONUMENTS IN NAIROBI, KENYA.
TOP 10 NATIONAL PARKS WITHIN AND NEAR NAIROBI.
TOP 10 BEST PLACES TO EAT IN MOMBASA
TOP 10 THINGS KENYA IS FAMOUS FOR.
TOP TEN GLAMPING SITES IN KENYA.
I am a bubbly extroverted 25 year old currently living and studying in Nairobi. I enjoy travelling and trying out new places to eat. My favourite place to be is anywhere by the beach, with a beer. You will most likely find me with my nose in a book or dining alone, like most extroverts do, of course.
I am a bubbly extroverted 25 year old currently living and studying in Nairobi. I enjoy travelling and trying out new places to eat. My favourite place to be is anywhere by the beach, with a beer. You will most likely find me with my nose in a book or dining alone, like most extroverts do, of course.