Pizza has become one of the most popular meals among Kenyan millennials. Because of this popularity, a lot of domestic joints, Italian restaurants and international pizza joints have opened up. And some high-end restaurants have even started selling pizza too, so as to cash in on this pizza craze. The pizza joint boom has made it hard to find a restaurant that sells the best pizzas at the most affordable prices. So, I've made a list of the best joints around Nairobi, to help you with your search for the best pizza in town.
Mambo Italia is an Italian restaurant with branches in Garden City Mall, Lavington and at Rivaan Centre in Westlands. Because it's an Italian restaurant, customers have very high expectations when it comes to their pizza. And this restaurant lives up to the high expectations, mostly because of their Angry Buffalo Pizza which is considered one of the best pizzas in town. Because they are the only restaurant that sells it, pizza lovers often flock here. Mambo Italia's pizza prices range between KSh750 and KSh1950, with their Parma Pizza being the most expensive. They also allow you to build your own pizza which is something I always enjoy doing. Mambo Italia has a really good ambience, and the candle lite restaurant has a very romantic atmosphere. Thus, making Mambo Italia a perfect place for dates, especially whenever they bring in live performers and a DJ.
Located at ABC Place on Waiyaki Way, 360 Degrees Pizza bakes its pizzas in a special Stefano Ferrara hand-crafted, wood-fired oven, at above 360 Degrees Celsius. Hence its name. The restaurant is very proud of its Italian heritage and they import the San Marzano tomatoes used in their pizzas straight from Italy. They use only authentic ingredients in their pizzas and this can be noted from the quality of pizzas they bake. The prizes of their pizzas range between KSh1050 and KSh1400. So, if you want a true Italian pizza experience that pays homage to Vera Pizza Napolitano traditions, 360 Degrees is where you'll get it.
Located in Karen Shopping Centre, Que Pasa Bar & Bistro is the perfect place to enjoy your evening pizza. The pizza here is always good, and the consistency in quality makes it a dependable place to satiate your pizza cravings. Despite the high-quality pizza, their prices are affordable ranging between KSh800 and KSh1350. Que Pasa bakes its pizzas in wood-fired ovens, with the dough being baked from early morning till late at night. Because of their dedication to the pizza-making craft, Que Pasa is a favourite among many. The restaurant has a wide clientele that includes locals, politicians, and expatriates. The good ambience and service is another big plus for this restaurant.

Mediterraneo is an Italian restaurant with branches in Gigiri, Junction Mall, and Westlands. Their Italian dishes are known to be extremely good and tasty, and their pizza is no exception. The prices of their pizzas are also really friendly and range between KSh800 and KSh1500. Their pizzas are also arguably the best in town, and the favourite of many. Mediterraneo has really good service and ambience. This restaurant is a must-visit for lovers of pizza and Italian food.
With locations on Lenana Road in Kilimani, Village Market, and Karen, Osteria del Chianti is really popular with fans of Italian food. Being an Italian restaurant, it isn't surprising that they have really good pizza. Their pizza menu has a large variety of pizzas with the prices of the pizzas ranging between KSh800 and KSh1450. Osteria del Chianti has arguably the best pizza in Nairobi.
Located in Muthaiga Shopping Mall on Limuru Road, La Dolce Vita is an authentic Italian restaurant, with an Italian chef and a rich Italian history. La Dolce Vita was founded in 2001 by Chef Riccardo Fiora, a Tuscan who moved to Kenya in the '90s. The restaurant is now run by his heirs. Such a rich restaurant history deserves only to be accompanied by excellent cuisine. And as far as pizza is concerned this restaurant lives up to my high expectations. The pizza is baked in a brick wood-burning oven and is really tasty. They have a wide selection of pizzas all reasonably priced. The ambience here is really good, and the huge selection of wines makes it perfect for pizza dates.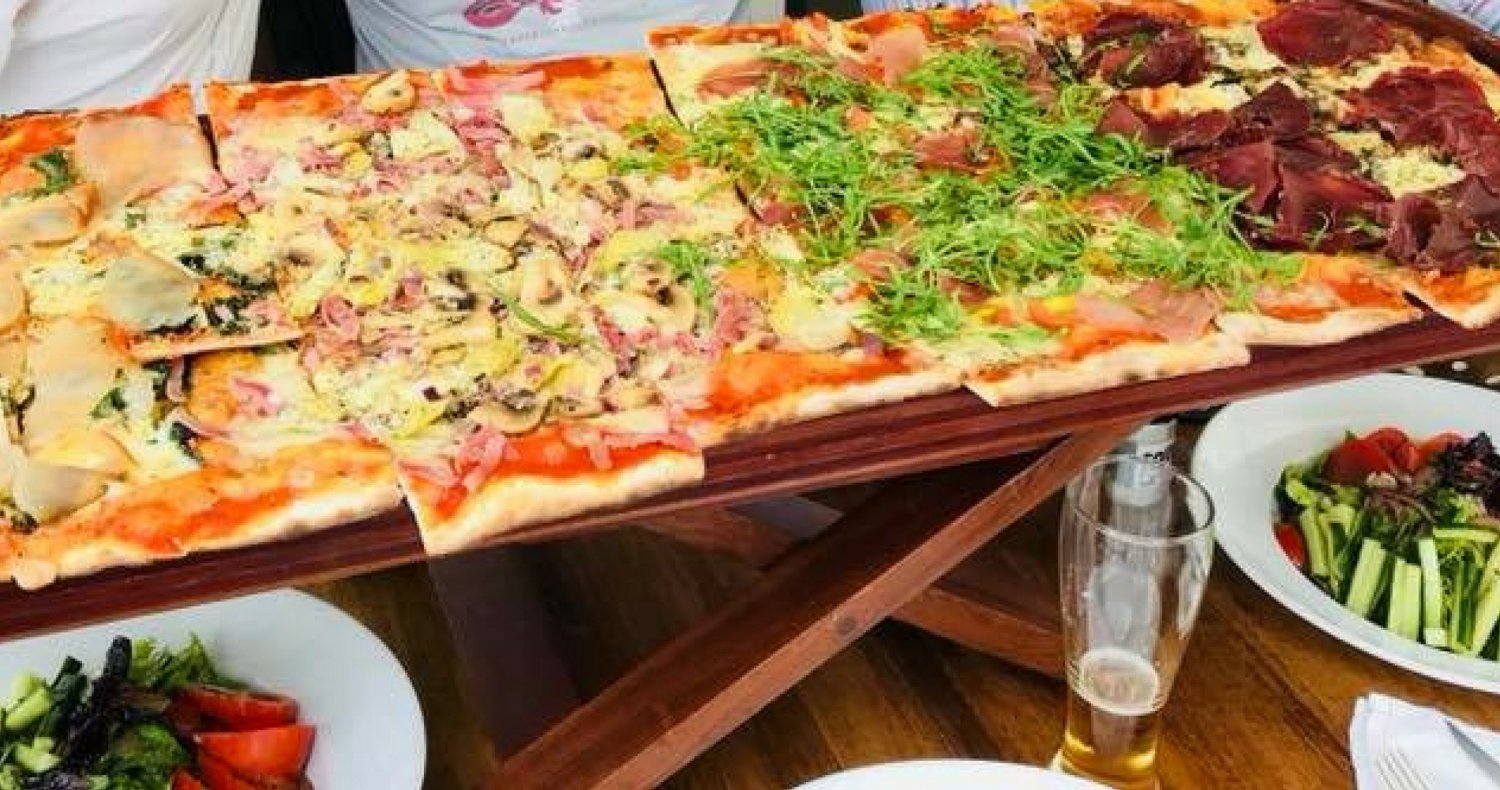 Located in Village Market, Gigiri, Pomodoro is a favourite among locals. They serve really good pizza at a friendly price. Its location on the food court makes it easy to find, and you will never miss a seat, which is a big plus. Pomodoro Italian owned, and the owner is always around to ensure only the highest quality food is served. On their good days, you might end up having the best pizza you have ever eaten in Kenya.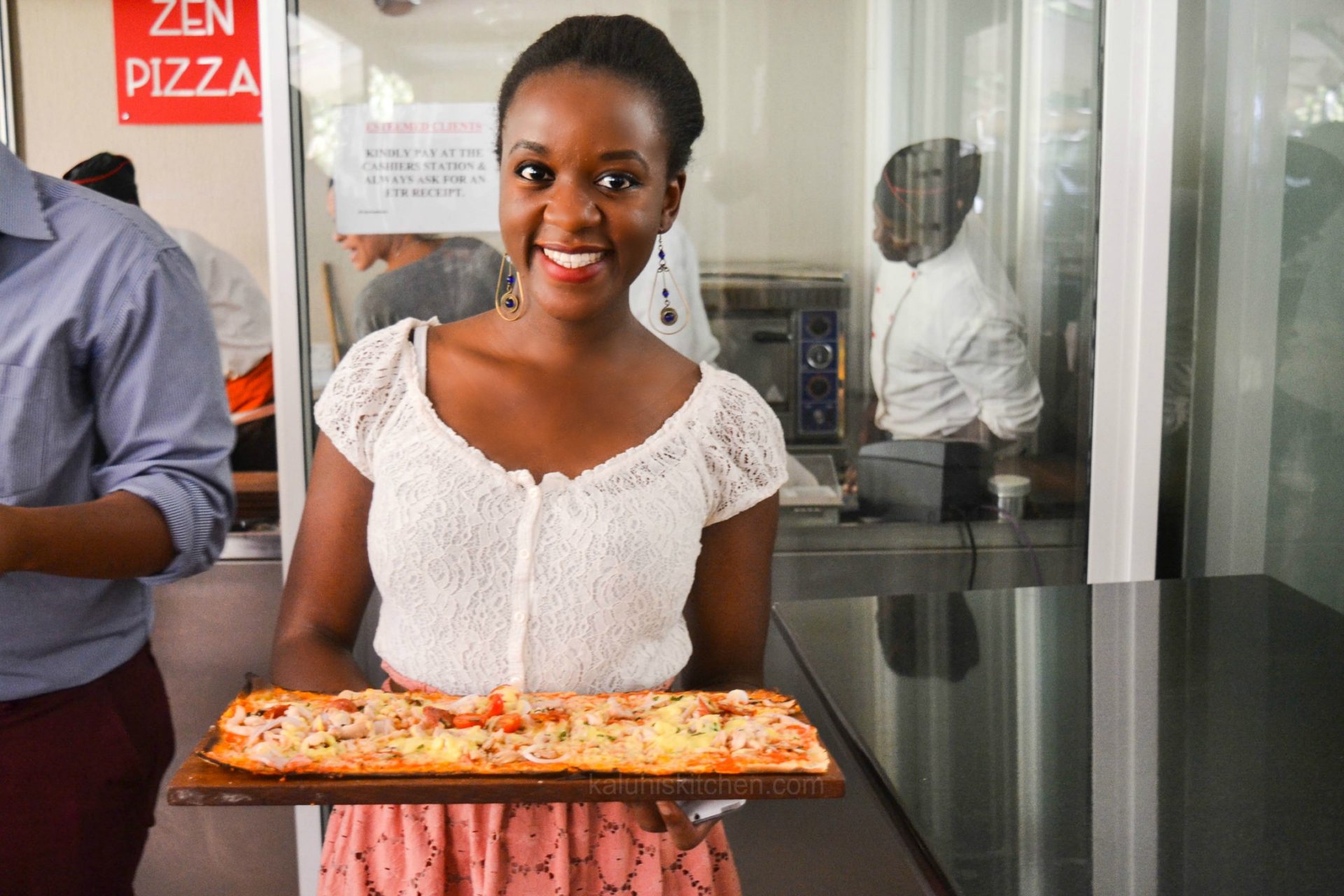 Zen Garden is a venue located along Lower Kabete road. It houses two restaurants, Bamboo Oriental Restaurant and, Jade Coffee and Tea House. The pizza at Zen Garden is consistently good and you will never be disappointed. The staff are also friendly and the service is quick and efficient. Zen Garden has a really good ambience, and the garden is really beautiful and relaxing making the restaurant perfect for having meals.
Big Square has around 10 locations in Nairobi, with the most popular one being on Moi Avenue. Their Do-It-Yourself pizza model is really popular in Nairobi, making it one of the most visited pizza joints downtown. Big Square has a wide variety of pizzas on its menu, including the controversial yet popular Hawaiian Pizza. Their consistency is really impressive considering the large number of pizzas they bake daily.
Debonairs is one of the most popular pizza brands in Nairobi, mostly due to their really good offers and prices. On Fridays, you get 2 large/medium pizzas for the price of one, at KSh1250 and KSh1000 respectively. Their pizzas are really good for a fast-food joint. Good luck finding a seat at Debonairs on Fridays, since their Friday Thrill offer attracts everyone in town.
Click the links below to get more insightful tips and tricks:
Top 10 Spas in Nairobi
Top 10 Spas in Mombasa
20 Things to do with Kids in Nairobi
Top 10 Nightclubs/Pubs in Nakuru
10 Best Nightclubs/Pubs in Mombasa
Top 10 Hiking Spots Around Nairobi
10 Best Camping Spots in Kenya
Top 10 Places to have Lunch in Nairobi
Top 10 Things to do in Nakuru County
10 Best Places to Eat in Mombasa
Top 10 Picnic Spots in Nairobi
I'm a 25-year-old adrenaline junkie from Nairobi. I love travelling, attending music festivals and hiking. You can always find me at K1 Klub House playing pool and enjoying a drink with my friends.